Evolving to Meet the Needs of Virginia's Employers
Workplace readiness skills have been a part of Virginia's CTE curriculum since 1998, when the first 13 were introduced after research and feedback from employers. Today, there are 22 skills organized around three core areas:
personal qualities and abilities, like creativity, work ethic, and problem solving;
interpersonal skills, like conflict resolution, teamwork, and respect for diversity; and
professional competencies, like information security, professionalism, and career and life management.
Students can demonstrate their knowledge of these competencies — and their preparedness for employment — through the Workplace Readiness Skills for the Commonwealth Assessment, which was developed by the Career and Technical Education Consortium of States (CTECS). The assessment is created in coordination with the Virginia Department of Education Office of Career, Technical, and Adult Education. Students who pass the assessment can earn the CTECS WRS Assessment Digital Badge, which proves that the student has passed the exam with a 75% or better score.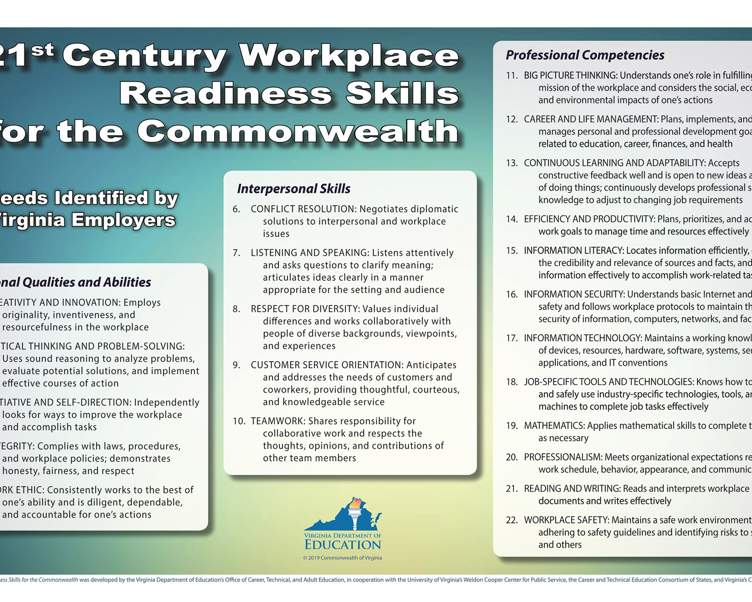 Get the Poster
The CTE Resource Center offers an 11x14-inch poster of all 22 Workplace Readiness Skills for the Commonwealth.
To order printed copies of the poster, please email us using the Contact Us link and include your name and your school mailing address along with the number of copies you would like (a maximum of 10 per order).
Use the download button below to get the print-ready PDF.
Resources for Educators and Students
The CTE Resource Center, in collaboration with CTECS, has developed instructional resources to introduce or reinforce student understanding of workplace readiness skills (WRS) in the classroom. Mastery of these skills will increase when the concepts and vocabulary are continually applied and reinforced throughout the core competencies of the course.
How to Use the Resources
The Workplace Readiness Skills for the Commonwealth instructional resources provide you with an efficient, adaptable set of resources to introduce and/or reinforce student understanding of one of Virginia's workplace readiness skills. While it is encouraged and expected that instruction in all of the workplace readiness skills will be integrated throughout your course, it is acknowledged that students could also benefit from more explicit instruction, particularly in certain skills.
There are several ways to use the lessons.
Option:
Choose one week (or a series of five class sessions) to focus on the skill. Teach one lesson each day, with the final day reserved for assessment. The lessons can be kept brief (around 30 minutes each day), or they be expanded to create longer lessons, depending on your time constraints and the needs of your students.

Option:
If you are on a block schedule or have a long class period, the lessons can be "stacked" and taught back-to-back in two or three classes. Assessment can take place the following class or as a homework assignment.

Option:
Individual lessons can be used to supplement your own unit, review something you have already taught, or reinforce an identified weak area.
Whichever option works for you and your students, follow-up is not optional. Real learning is not likely to take place if the concepts and vocabulary are not continually used and reinforced throughout the course. Each lesson provides tips for taking advantage of formal and informal opportunities to reinforce knowledge and skills.
We hope that you and your students enjoy your journey through Virginia's workplace readiness skills!
Personal Qualities and Abilities
Skills marked with * are supported by resources from the Career and Technical Education Consortium of States (CTECS).
Professional Competencies
Success Stories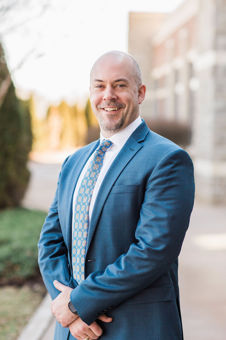 Chief Executive Officer
Spotsylvania Regional Medical Center
Grayson County High School
Grayson County Public Schools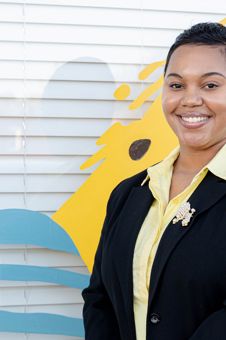 Clinical Supervisor-Mental Health Therapist
A New Legacy Family Services
Charles City High School
Charles City Public Schools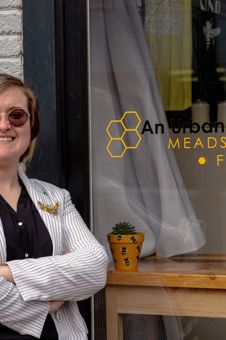 Manager-Owner
Haley's Honey Meadery
Colonial Heights Technical Center
Colonial Heights Public Schools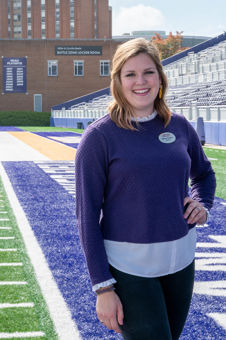 Director of Special Events & Donor Stewardship
James Madison University Duke Club
Sherando High School
Frederick County Public Schools